Protection with Bird Protection Net
Control of the Bird Appearance on Properties
In earlier times wild birds were a big problem. They ate peoples' fruits and attacked their chickens. Nowadays, our propriety is still a target. If you have a residence, an office building or a nice garden, it could be the next target of the birds. Bird protection net is the solution before the problem emerges. It consists of a net used to prevent birds from living in certain areas or reach certain places. With these netting, we can control which birds enter our propriety. We can find these protection nets in a large variety, and we can select from a big range of colors and sizes. They also have a high resistance to any weather. Usually, the installation differs if you want to use a bird protection net for buildings or you want one for your crops. To install this net, you will need some basic equipment, less time than you think, and a little help from some family member or a neighbor.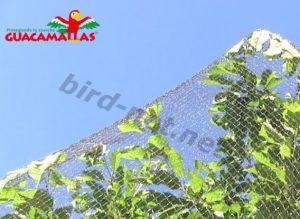 Perfect In Urban Areas and in Open-air Facilities
Nets can be used by anybody who wants to protect his property including farmers, businessmen, people who have a residence or a beautiful building. It is unpleasant if you have a pool, and you realize that your pool is dirty again, because the birds enjoyed their time. A net is perfect for pools too. In train stations, we can see many pigeons. They are a threat to human health, and they can ruin the aesthetics of the surrounding buildings. To maintain the look, in many cities the mayor decided to use a bird protection net in order to protect the building from pigeons. These nets are barely visible from distance thanks to the big variety of colors.
Help for Your Business
Have you ever taught about opening a new business and have a fishery, an aquaculture on shrimp or tilapia? You need to know that you will have to protect your work from marauding birds, like seagulls, herons, pelicans, cormorants. If you use bird protection net, you form a barrier between birds and your asset. In many situations, farmers use nylon bird netting to protect the fruit crops from wild birds. When you have some beautiful, red strawberries, fruit bushes with black currants, or some apples and you cannot wait to eat them, you are disappointed when somebody else eats them before you, especially if it is an unwanted visitor, like a wild bird. It is easy to install a bird protection net and you can save your crops for you, your entire family, and for the market. For a farmer, this might be the only way he can save his crops. Usually, wild birds are not scared anymore of balloons, rotating mirrors or gas guns.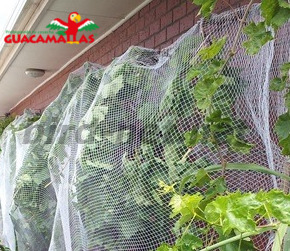 House on Wheels for Chicken Needs Bird Protection
Where can you use bird netting? You can use it in courtyards, bridges, buildings, loading docks or on any open beam structure. You can also use it to build a chicken tractor. You can move the coop easier if you build it with wheels. Actually, it is like a house on wheels for chicken made of wood and netting. Predator birds attack not only your crops, stealing from you the best fruits, but your animals too. This coop allows your poultry to stay across your land day by day, and you can stay calm because you know that your animals are safe. A great advantage of a chicken coop on wheels is that it helps in fertilizing the garden. Poultry leaves manure in the grass. This manure has nitrogen and phosphorus, two essential substances for a good soil. Also, the birds scratch the ground and "prepare" it for plantation. These special coops can have different designs. They must be large enough to give your chickens space to move. You should build a covered roof especially if you live in a hot area. This way, your chicken will have space to hide when the sun is too hot. Also, it's good if you place a watering device inside.
Good Even for Human's Health
Everybody who lives on a farm knows that you need a lot of hardware mesh. A mesh is made of metal, fiber, plastic or other flexible materials. It's like a net and has a lot of specially spaced holes. It is a great way to screen out insects. How many times were you bitten by a mosquito and you had no solution to stop it? At the moment you mounted a window net made from mesh, this torment ended. Another great use of mesh is to make a fence and protect your area. Some people make benches out of it. You can use it as screen door reinforcement, small animal cage, shrub and tree protection, sculpture, aviaries, and a long list of other structures. Meshes are used even in medicine to reinforce some weak structures of the body after surgical interventions.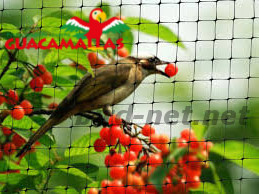 Best Friend on the Farms
Bird protection net is sometimes made from mesh. It sounds like this is the perfect, unbeatable object. It has one enemy and it is called Ultraviolet. Most nets are manufactured from polyethylene. If they are not treated for UV, their lifespan will be really short, not more than a few weeks in the summertime. A good bird net protection is made-up from polyethylene or polypropylene and they are stabilized against the UV light. Nylon bird net keeps away gulls, starlings, pigeons, sparrows and other birds. Some nets are treated to be flame retardant. A strong net is a knotless net. It has also a higher melting point. It's easy to install and cheap to transport. A good bird protection net lasts for a long time, at least a decade. If you are a handyman and you have a farm, it is your best friend.